Hello, and welcome to the Smart Ask! Tournament 1 Andy Awards, celebrating some of the good, some of the odd, and some of the funny moments of Tournament 1 of Smart Ask.

Let's start off by announcing my Tournament 1 All-Star Teams. These are who I feel are the best 8 players from Tournament 1, split into two teams of 3 (and two Honourable Mentions):

---
Andy's All-Stars
---
Andy's Smart Ask! Tournament 1 1st All-Star Team:
Adam, St. George's

970 points in 2 games
92.31% of answers correct
(24 for 26)<

Sarah, Merivale

1,760 points in 4 games
87.23% of answers correct
(41 for 47)

Angela, Discovery

1,190 points in 3 games
11-for-14 in 50-point round
5-for-6 in Dirty Half Dozen
---
Andy's Smart Ask! Tournament 1 2nd All-Star Team:
Jason, Vaughan Road

1,230 points in 4 games
76.74% of answers correct
(33 for 43)

Ben, Merivale

1,450 points in 4 games
78.72% of answers correct
(37 for 47)

Stephan, Victoria

Stephen, Victoria
900 points in 2 games
13-for-15 in Lightning Round
---
Honourable Mentions:
Jesse, Royal West

890 points in 3 games
Led Royal West's comeback against Yorkton

Margaret, Vaughan Road

740 points in 4 games
12-for-12 in 20-point round
---
Tournament 1 Andy Awards
---
Mio's Worst Moment

We've seen Mio come out in some somewhat embarrassing costumes to ask a series of questions, in Mio's Moment. Which one was the most embarassing?

Well, during the Massey-Vanier vs. Victoria match, Mio came out dressed as a cheerleader...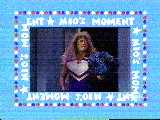 ...but that's nothing compared to what they made Mio wear, or rather, what they didn't make him wear in the West Kings - St. John's matchup.

So, the Andy for "Mio's Worst Moment" goes to...


"Mio in a Speedo"
---
Oddest Talent

During the Week 1 interviews, we saw some interesting statements, and some interesting talents, but definitely the oddest talent came in the opening episode, from Devin (the Harry Potter look-alike) that blew a balloon up with his nose.

So, the Andy for this "Oddest Talent" goes to...


Devin (from Wadena)
---
The "Adny" Award

(for worst peformance in the Spelling Bee category)


Disclaimer: This is a "fun" award that I thought of after watching Jen Graham constantly misspell words in chat, on the message boards, and in #triviaden. No ill will or malice is intended towards any of the recipients of an Adny, it's just a fun look back at the Spelling categories.

Looking back through the tapes of the spelling categories, after the round 1 games, I was going to give this award to Nobu for mispronouncing "Syntactical" in the Leo Hayes - St. George's game (and confusing the heck out of the contestants)...however, in the 2nd (and 3rd rounds), a clear winner emerged. This player faced 3 spelling categories in their 3 games head-on, got 1 wrong in the 1st round, 2 in the second, and 3 in their third match. He gets an "A" for effort, but the Adny for Tournament 1 goes to...


Jesse (from Royal West)
---
"The Other Side of Athenian Strategy" Award:

Some of you who watched last year's games remember the team from Athens District High School, who would have one player ring in, and then figure out the answer with help from their teammates. Well, as we saw in Tournament 1, there is another side to this Athenian strategy. You might not be able to come up with the answers as much as you would like. Therefore, for saddling one of their players with a tournament-high 17 incorrect answers, the Tournament 1 Andy for showing us the other side of Athenian Strategy goes to...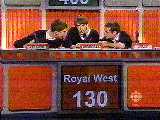 Royal West Academy
---
Best Comeback

Tournament 1 saw some very dramatic comebacks and close finishes. For most of the tournament, this award was going to be a shoo-in to give. In their opening game, Yorkton held a 410-70 lead on Royal West after the Dawg Eat Dawg round. As we all know, Royal West came back to win that game 470-460.



However, that was nothing compared to the last-minute dramatics we saw in the quarter-final between Merivale and Vaughan Road, with a spot in the semi-finals at stake. At one point during the Dirty Half Dozen, Vaughan Road held a 520-210 lead. Well, Merivale didn't give up...and they now find themselves not only in the semifinals, but the recipient of the Andy for "Best Comeback" for Tournament 1.


Merivale High School (over Vaughan Road)
---
Best Match

Again, a very tense quarterfinal made my decision very difficult. Merivale and Vaughan Road certainly put on a show for the viewers. However, I don't believe it had all of the all-around qualities needed.

The match that receives this Andy award was called a "clash of the titans" on the air. It featured the #1 scoring team from radio against the #1 scoring team from the first round of TV. It was back and forth for the entire match. One team went down early and made back most of their deficit by some gutsy Dawg Eat Dawg wagering, then tied the game in the Dirty Half Dozen, setting up a classic Lightning Round that went right down to the final seconds.

For the most tense entire 30 minutes that I saw in the tournament, and the agony of the final charge falling one question short, the Andy Award for Best Match goes to...


Vaughan Road 800 St. George's 750
---


Well, that brings to a close this inaugural version of the Andy Awards, but keep your eyes peeled for I'll be handing out a second set of Awards after Tournament 2. Peace!