We're a bit late, but we're back! And we have the Tournament 3 Andy Awards for your pure enjoyment :-)

Let's start off by announcing my Tournament 3 All-Star Teams. Just like before, these are the players who I feel are the best 8 players from Tournament 3, split into two teams of 3 (and two Honourable Mentions). Criteria used for these All-Star teams include statistics, use of strategy, and clutch performances.


---
Andy's All-Stars
---
Andy's Smart Ask! Tournament 3 1st All-Star Team:
Matto, Saint John

1,200 points in 4 games
80.00% of answers correct
(28 for 35)
5 for 7 in Dirty Half Dozen

Imran, Saint John

1,490 points in 4 games
72.22% of answers correct
(39 for 54)

Jessica, Albert Campbell

1,000 points in 4 games
69.70% of answers correct
(23 for 33)
---
Andy's Smart Ask! Tournament 3 2nd All-Star Team:
Zachary, East Pictou

810 points in 3 games
75.00% of answers correct
(21 for 28)

Kuhan, Albert Campbell

730 points in 4 games
70.83% of answers correct
(17 for 24)

Amy, Porcupine Plain

740 points in 3 games
8 for 8 in Lightning Round

---
Honourable Mentions:
Julia, Holy Trinity

620 points in 2 games
7 for 8 in Lightning Round

Andrew, St. Thomas

620 points in 2 games
81.25% of answers correct (13 for 16)
---
Tournament 3 Andy Awards
---
Mio's Worst Moment
Tournament 1 Winner: "Mio In A Speedo" (West Kings vs. St. John's)
Tournament 2 Winner: "Mia's Moment" (Highland vs. Inuksuk)

Unfortunately in Tournament 3, we didn't see as many strongly unique moments for Mio, except for one, which we saw in the Albert Campbell-East Pictou game:

Mio, I have to say, you look great in a 19th-century green and white dress...so the Andy for Mio's Worst Moment goes to...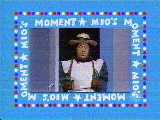 "Mio of Green Gables"
---
Best Interview

(formerly Oddest Talent)

Tournament 1 Winner: Devin, Wadena
Tournament 2 Winner: Rahim, Kamloops



In Tournament 3, we didn't see anyone blowing a balloon with their nose, or talking about how great the ladies are in Toronto...but as Josh Manzer put it, we saw "the most intelligent and well-spoken interview I've seen in my long time watching Smart Ask".

That interview would have been the interview that Jennifer Graham gave, talking about her science project: "Oh, No! My Space Ship Is Rotting!", talking about how fungi rot when exposed to micro gravity, and how the clinostat makes them dizzy.

So, the Andy for Best Interview of Tournament 3 goes to...


Jennifer, Marystown Central
---
The "Adny" Award

(for worst peformance in the Spelling Bee category)

Tournament 1 Winner: Jesse, Royal West
Tournament 2 Winner: Tyler, Templeton



Disclaimer: This is a "fun" award that I thought of after watching Jen Graham constantly misspell words in chat, on the message boards, and in #triviaden. No ill will or malice is intended towards any of the recipients of an Adny, it's just a fun look back at the Spelling categories.

This was easily the most difficult award I've had to give out so far this season, because we had two players that were just about equally deserving of this award. They also happened to be teammates. Kayla and Jennifer from Marystown Central.

In their first game, they saw a spelling bee, and didn't do too badly on it. They went 2 for 4.

But it was their second game where they cemented their lock on this award. Unfortunately, it became incredibly difficult to determine which player should receive the award.

Question 1: Tongue. Kayla rings in with "tonuge".
Question 2: Unpalatable. Jennie: "unpateb..."
Question 3: Regurgitate. Jennie: "regrugate".
Question 4: Salivary. Jennie: "salvatory".

Normally, I would have given the award solely to Jennifer, based on a greater number of incorrect answers; however...the mis-spelling of "tongue" means that the Adny for Tournament 3 will be split between...


Kayla, Marystown Central and Jennifer, Marystown Central
---
"Athenian Tragedy" Award

(formerly "The Other Side of Athenian Strategy" Award)

Tournament 1 Winner: Royal West Academy
Tournament 2 Winner: Templeton Collegiate



This award was locked up fairly quickly. In their opening category of their opening game, the confusion between the two teammates trying to pass answers not only gave their team incorrect answers, they passed two answers to their opposing team. For the early confusion between Gaetan and Kayla against Carleton, the Athenian Tragedy for Tournament 3 goes to...


Marystown Central High School
---
Best Comeback
Tournament 1 Winner: Merivale High School (over Vaughan Road Academy)
Tournament 2 Winner: Kennebecasis Valley High School (over Kamloops Secondary School)

Tournament 3 did not have as many comebacks as Tournaments 1 or 2 did, but there was one that stuck out.

In the opening second round game, Bassano School was completely outplaying Porcupine Plain and looked primed for a date in the 3rd round with Saint John, leading 440-230:


However, Porcupine Plain was somehow able to climb back in the last half of the Dirty Half Dozen and Lightning Rounds and win the game in the final seconds...giving them the Tournament 3 Andy for Best Comeback.

Porcupine Plain Composite High School (over Bassano School)
---
Best Match
Tournament 1 Winner: Vaughan Road 800 St. George's 750
Tournament 2 Winner: Kennebecasis Valley 690 Kamloops 650

This match was Back. Forth. Back. Forth. It had it all. East Pictou jumped out to an early lead, Albert Campbell clawed it back. We had a tie game after Dirty Half Dozen. East Pictou held a very slim 50-point lead going into a 1:49 Lightning Round, where Albert Campbell held a 200-point advantage with a minute to go. But East Pictou gets the next 4 questions to tie the game, letting the teams trade answers over the next 20 seconds, to the point that we are tied at 650 with 10 seconds left. Unfortunately, Chris answers incorrectly on the game's final question, sending Albert Campbell through to the quarter-final. But for one of Smart Ask's most exciting games, ever, the Andy for Tournament 3's best match goes to...


Albert Campbell 650 East Pictou 600
---


That brings to a close this series of the Andy Awards, but I'll be back after Tournament 4 for a fourth go at it before the semi-finals! And I promise that the next set won't be late. Peace!